Holdens Secret Men's Business 3.5
Holdens Secret Men's Business 3.5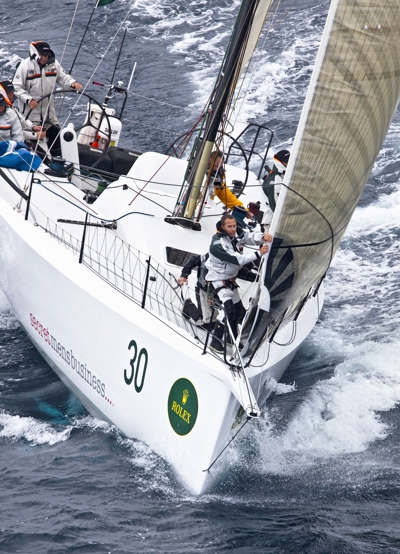 Boettcher chose the Audi Sydney Gold Coast Yacht Race to make his return to ocean racing after winning the 2010 Rolex Sydney Hobart Yacht Race and taking a long-deserved break after persevering for 23 Hobart races in total. Finishing the Gold Coast race sixth overall and second in division, with little training, has given the South Australian and his crew the impetus to try one more time. And "Boettch" says it really will be his last Hobart "It's definitely one more no more!"
Sydney based crew manager, Michael Dunstan, has recruited many from the winning 2010 team including locals Steve 'Reggie' Kemp and Timmy Cowen, Tasmanian Julian Freeman and Victorian Simon Cunnington. And with a couple of experienced new faces added, Boettcher says they are determined to give it a good go.
SMB3.5was re-launched in Mornington by Hart Marine in late 2009 after undergoing a rebuild and hull modification designed to correct upwind performance, and increased her waterline length by four foot. As SMB 3, the boat broke the record for the fastest boat under 50ft and fastest ever South Australian Yacht to reach Hobart in 2008; and broke the race record for the Adelaide to Port Lincoln in 2009.
Competitor Details
| | |
| --- | --- |
| Yacht Name | Holdens Secret Men's Business 3.5 |
| Sail Number | YC3300 |
| Owner | Geoff Boettcher |
| Skipper | Geoff Boettcher (23) |
| Navigator | Steve Kemp (14) |
| Crew | M Dunstan (10), N Burridge (4), J Freeman (24), S Cunnington (12), D MacLeod (17), N Partridge (14), A Hutchinson (5), T Cowen (8), J Paterson (4), C Howard (6), D Oliver (6), C Kosecki (1) |
| State | SA |
| Club | CYCSA |
| Type | Reichel Pugh 51 |
| Designer | Reichel Pugh |
| Builder | Hart Marine |
| Construction | Carbon |
| LOA | 15.64 |
| Beam | 4.40 |
| Draft | 3.33 |