Beau Geste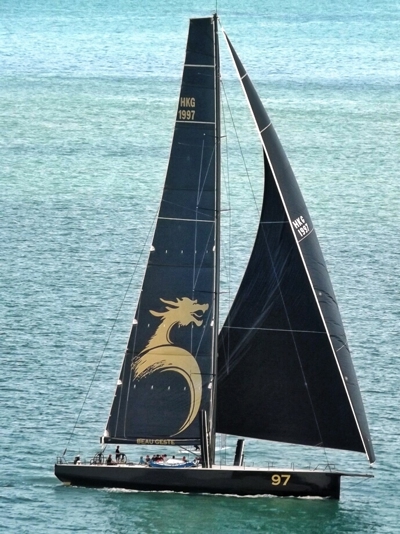 Overall winner of the 1997 Hobart with his then new Farr 49, Karl Kwok returns to the Rolex Sydney Hobart fold with his brand new Botin 80, Beau Geste, which his team has been busy putting together this year and was launched in New Zealand on 21 November.
It is a replacement for the Hong Kong businessman's ill-fated Farr 80, which cracked through the middle during the Auckland Noumea Race off Norfolk Island last year, causing experienced skipper Gavin Brady and the crew some serious alarm. Rescued by the Islanders, the boat's fittings are being utilized in the new boat, which has assisted with the design process, ensuring that this super-charged performance racer will be ready to take to the start line on Boxing Day.
"There is a lot more structure in the boat, especially in the deck and some other engineering aft," Brady explains. "It's designed to be more of a coastal boat - for the Fastnet, Rolex Sydney Hobart, Bermuda and so on, with a similar beam. With a coastal race you've got to sail to VMG, both upwind and downwind, so a coastal boat is more of a Mediterranean style, maxi-worlds type of boat than say a Volvo 70. It also has similar foils to a Volvo 70, with dagger boards and a canting keel that is lighter than most in its division."
Apart from Kiwi, Brady, the star studded crew includes navigator Steve Hayles, who has navigated multiple Whitbread/VOR boats and contested other big events such as the Rolex Sydney Hobart, the Maxi Yacht Rolex Cup, Audi Medcup and Admiral's Cup.  
Karl Kwok has done and won most of the big ocean races and yachting regattas around the world with more than a dozen different boats. Expect big things from this boat built by Mick Cookson in New Zealand. Kwok will have major competition in this race though, especially from other new builds such as the Carkeek design, Ichi Ban.
Competitor Details
| | |
| --- | --- |
| Yacht Name | Beau Geste |
| Sail Number | HKG1997 |
| Owner | Karl Kwok |
| Skipper | Karl Kwok (1) |
| Navigator | Steve Hayles (5) |
| Crew | G Brady (10), C Ward (7), B Marsh (4), R Houston (2), D Swete (3), T Rae (5), P Jameson (6), G Endean, K Batten (2), M Cheung, M Chan (1), D Endean (2), W Lo, M Edmonds, Z Gills, K Harrop |
| State | Hong Kong |
| Club | RHKYC |
| Type | Botin 80 |
| Designer | Botin Partners |
| Builder | Cookson |
| LOA | 24.4 |