Wild Oats XI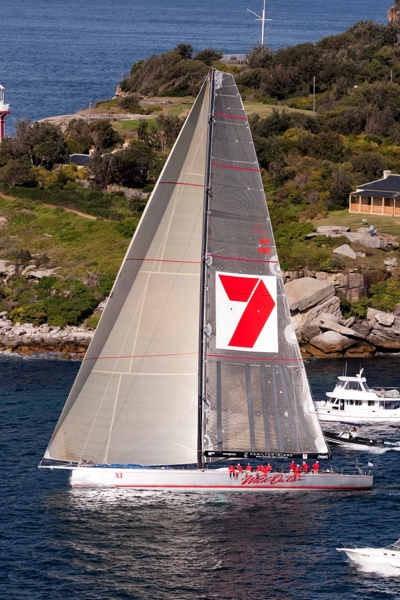 Wild Oats XI secured her sixth line honours victory under the guidance of Mark Richards in last year's Rolex Sydney Hobart, broke her own race record, which now stands at 1 day, 18 hours, 23 minutes 12 seconds and won the race overall. It was the second time the super maxi had achieved this historic treble and the only boat to do so twice in the race's history. 
As it does each year, Bob Oatley's super maxi has undergone further modifications that include having a radical, retractable, hydrofoil-type wing fitted in a bid to make her even faster when sailing downwind. The modifications were put to the test for the first time under racing conditions at Audi Hamilton Island Race Week in August and the consensus is that it improved the yacht's performance.
The modifications are aimed at keeping the eight-year-old Wild Oats XI competitive against more recent designs. They have led to Richards and the crew to affectionately refer to the yacht as the 'Swiss Army Knife', because of the number of appendages she now boasts: the new hydrofoil wing, a retractable forward rudder, two retractable daggerboards, canting keel, and the conventional rudder at the stern.
Wild Oats XI still holds the record for the most consecutive line honours wins – four – from 2005 to 2008, surpassing Morna's record of three in a row achieved from 1946-1948. She also holds the race record for the CYCA's Sydney Gold Coast Yacht Race (22hrs, 3mins, 46secs, set in 2012) and the CYCA's Cabbage Tree Island Race (12hrs, 15mins, 55secs, set in 2012). Richards and his crew will need to muster all their resources this year, with three other supremely competitive super maxis and their crews ready to take her on.  
Competitor Details
| | |
| --- | --- |
| Yacht Name | Wild Oats XI |
| Sail Number | 10001 |
| Owner | Robert Oatley |
| Skipper | M Richards (11) |
| Crew | A Henderson (2), C Harmson (7), C Links (1), G Taylor (18), I Burns (2), I Murray (1), J Hildebrand (9), J Wilson (7), J Whittaker (4), M Richards (7), M Shillington (6), N Ellis (7), R Naismith (17), R Daniel (12), S Beavis (4), S Jarvin (25), S Quigley (1), S Bannatyne (3), T Wiseman (9), T Addis, T Tindill (8). |
| State | NSW |
| Club | RPAYC/HIYC/YCCS |
| Type | RP100 |
| Designer | Reichel/Pugh, USA |
| Builder | McConaghy |
| Construction | Carbon/Nomex |
| LOA | 30.48 |
| Beam | 5.1 |
| Draft | 5.9 |